WELCOME TO THE FURY SOFTBALL ORGANIZATION
The Fury Softball Organization was created in Temecula, CA to provide an opportunity for talented and motivated softball players an opportunity to train and compete in a competitive, Southern California Travel Softball program. We emphasize player development through individual skill development and teamwork. Our players will be better athletes and softball players after a season with us.
We are not one of the oldest travel ball programs out there, but we are fast becoming known as an organization that develops young athletes to become better softball players. Our teams play a very busy and highly competitive schedule with competing at a National Event, as our season ending goal.
FURY NEWS AND EVENTS
Our Fury Team Coaches are always interested in finding the "Next" College softball prospect. If you are interested in attending, please click on "Join Fury" on the left side of this web page, then complete the online information sheet, and submit - it's that easy!
Want an Individual Try-Out / Workout - Call or send me a text message to arrange 909-262-8079 / Mark. Email: markg@furysoftball.net for more information.
If you'd like to try out for one of our teams or have questions, please contact the teams coach directly:
Chelsea Goodacre Wins Gold Glove Award
NPF Gold Glove winner Chelsea Goodacre was honored at the MLB Gold Glove Award Dinner in New York City.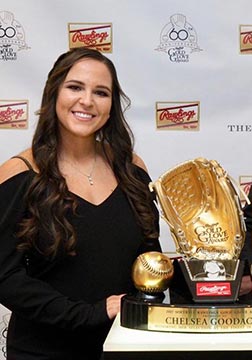 COLLEGE of Chelsea Goodacre
Honored at the MLB Gold Glove Award Dinner in New York City as the NPF Gold Glove winner.
5th in Arizona's history of players hitting home runs (71) in their career,
7th in Arizona History for total career RBI (240) and
6th in Arizona softball history to hit over 20 home runs in consecutive seasons.
NFCA Second Team All-American, 3-time All Pac-12 First Team, NFCA Div I First Team All-Region West.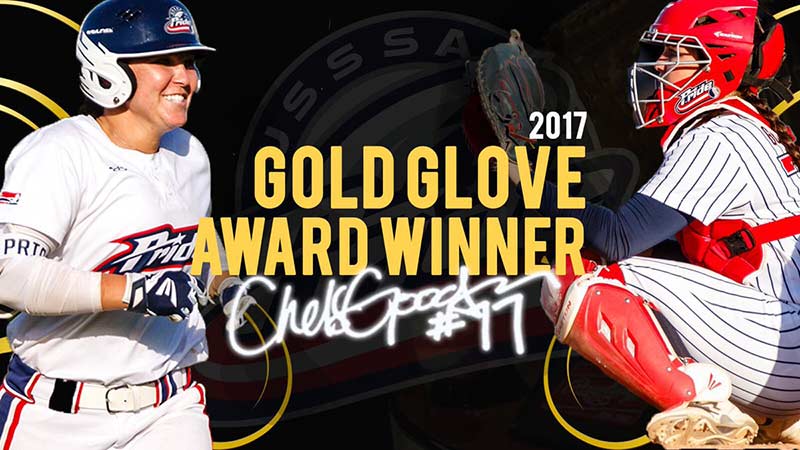 Former Wildcat All-American catcher and 2017 National Pro Fastpitch Gold Glove winner Chelsea Goodacre was honored at the Major League Baseball Gold Glove Award Dinner on Friday November 10, 2017 in New York City.
Goodacre did not commit an error in 211 total chances (196 putouts and 16 assists) in 40 games this season while also throwing out 65% of potential base-stealers, the best mark in the league.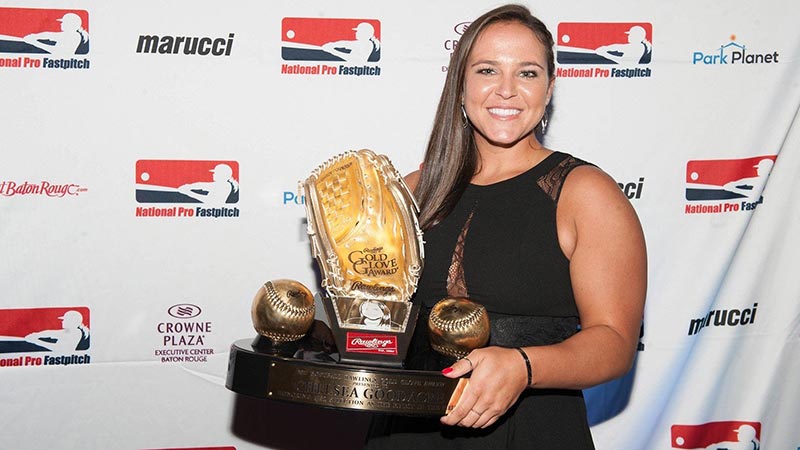 Read more about the award at: PR News Wire and Arizona Wildcats
About US
At the Fury Softball Organization we are known for our dedication to the athletic and academic advancement of our female athletes.
Fury Softball is a non-profit select travel softball organization based out of Murrieta, California playing ASA, USSSA, Triple Crown, PGF and other showcase tournaments in many different age divisions. We compete in some of the most prestigious tournaments around the country to showcase our high school athletes to college coaches to earn collegiate scholarships.